Kyäni Protein Nutritionals
Focused nutrition to support your body's specific needs
Kyäni's Targeted Nutritionals are comprised of several products designed to make it easy for you to get the nutrition your body needs most. Whether you're looking for collagen support, post-workout performance protein, or both, Kyäni FIT20, Origin and HL5 are the answer!
POST-WORKOUT PERFORMANCE PROTEIN BLEND
FIT20 is an naturally based post-workout protein blend made from 20 grams of Grass-fed Whey Protein Isolate, Whey Protein Concentrate and Hydrolysed Collagen that delivers the nutrients athletes and active people require for lean muscle building, faster workout recovery, and long-term, nitric oxide production.
Better recovery, better results!
KEY nutritious INGREDIENTS
Grass-fed Whey Protein Isolate
Grass-fed Whey Protein Concentrate
Provides sustain energy and digestive support
Hydrolysed Grass-fed Collagen Peptides
Helps maintain healthy tissues, joints, and bones
MCT (Medium-Chain Triglycerides)
Provides fast fuel and energy
HEALTHY LIVING COLLAGEN SUPPORT
HL5 is a natural, on-the-go hydrolysed collagen protein boost designed for maximum absorption to support healthy joints, skin, and hair as well as build lean muscle, optimise fat metabolism, and provide long lasting energy with only 25 calories and 0 grams of sugar.
Invest in your health now, so you can enjoy it in the future. Add HL5 to your daily healthy living routine!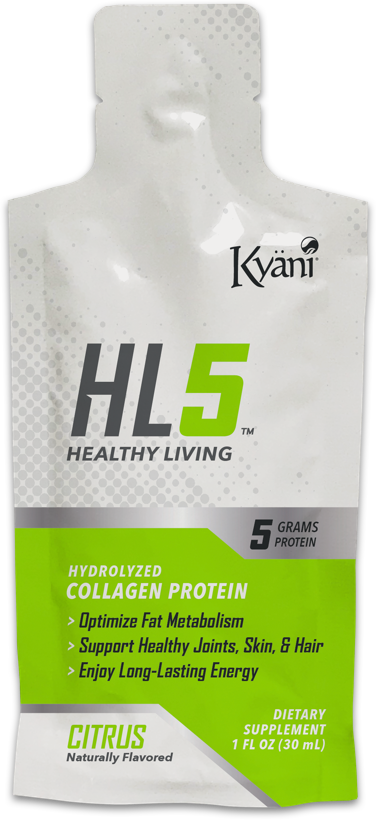 KEY nutritious INGREDIENTS
Helps maintain healthy skin, hair, joints, and bones
Acts as a prebiotic for improved absorption
Aids in digestion and absorption, healthy inflammatory response, powerful antioxidant
Natural antimicrobial, aids in digestion and absorption, helps maintain healthy skin, and blood sugar
Powerful antioxidant, UV protection
Helps maintain healthy skin
Kyäni Origin™ is a natural, macronutrient-balanced shake featuring a premium plant-based protein blend made from fava beans, peas, pumpkin and sunflower seeds to support strong muscles, help fuel metabolism, help maintain a healthy weight, and support healthy blood sugar levels.
Origin also helps you achieve the Nitro Effect™ by providing the building blocks your body needs to produce nitric oxide, which helps you get the most of its quality plant-based nutrients. Whether you are looking to live healthier each day or you're ready to elevate your active lifestyle, feel good knowing that Origin's nutrients come from the source of all great nutrition—nature!*
KEY nutritious INGREDIENTS
Supports strong muscles and healthy weight; healthy alternative to animal-based proteins
Aids in the long-term production of nitric oxide, aids in response to soreness and fatigue
Fibers from apple, bamboo, chicory, and milled flaxseed; promotes healthy gut flora
Medium Chain Triglycerides (MCTs)
Supports sustained energy
Kyäni ON was developed to provide you with naturally sourced energy that keeps you going strong with a clear, focused mind. It combines 100 mg of caffeine from the guarana fruit with Kyäni's proprietary blend of nootropics to support mental focus and brain health. With ON you can say goodbye to your afternoon slump and hello to focused, clear-headed productivity.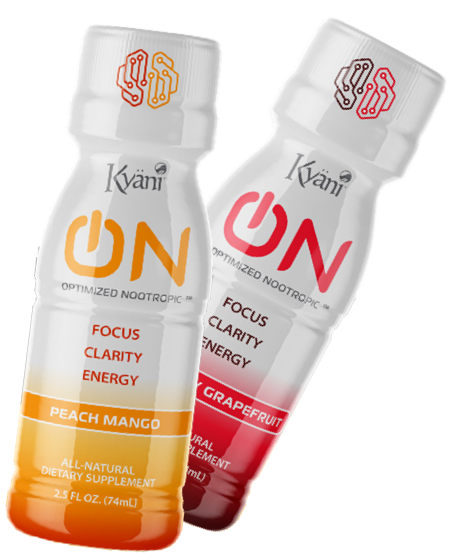 KEY nutritious INGREDIENTS
Supports attention, focus, and recall
Helps amplify and sustain energy from caffeine without any jitters
Heightens mental acuity and promotes concentration
Acts as a neurotransmitter in the brain
Supports brain health and memory
Includes vitamins that are essential for energy metabolism
Nutrient-Dense Meal Replacement
Kyäni Core140+ is a nutrient-dense meal replacement shake that goes beyond just the basic macronutrients by providing organic greens, digestive enzymes, probiotics, natural vitamins and
minerals, organic fiber, and adaptogens. With Core140+, you'll discover balanced, wholesome nutrition that's incredibly convenient.
KEY nutritious INGREDIENTS
Supports attention, focus, and recall
Helps amplify and sustain energy from caffeine without any jitters
Heightens mental acuity and promotes concentration
Acts as a neurotransmitter in the brain
Supports brain health and memory
Includes vitamins that are essential for energy metabolism